Product Description
We produce and export Maleic Acid to many courtries all the year round, the customers are all satisfied with our quality and service.
Product Name: Maleic acid
CAS: 110-16-7
EINECS No: 203-742-5
MF: C4H4O4
MW: 116.07
Putiry: 99% -101%
Appearance: White powder
1. Specification:
Assay(as C4H4O4): 99.0%~101.0%
Heavy Metals(as Pb) : 10ppm Max
Water: 2.0% Max
Residue on Ignition: 0.1% Max
Iron(as Fe): 5ppm Max
Fumaric Acid: 1.5% Max
Solution State: Clear
Colour: Qualified
Item

Specification

Results

Physical Property

Appearance

White Powder

Conforms

Odor

Characteristic

Conforms

General Analysis

Identification

Assay (Test by HPLC)

Loss on Drying

Identical to sample

99% - 101%

≤1.0%

Conforms

99.88%

0.39%

Specific Rotation

+20.0 ~+22.0°

Conforms

Ash

≤3.0%

0.68%

Contaminants

Lead (Pb)

≤3.0mg/kg

2.2

Arsenic (As)

≤2.0mg/kg

1.6

Cadmium (Cd)

≤1.0mg/kg

0.5

Mercury (Hg)

≤0.1mg/kg

0.06

Microbiological

Total Plate Count

≤1000cfu/g

Conforms

Yeast&Mold

≤100cfu/g

Conforms

E.Coli.

Negative

Conforms

Salmonella

Negative

Conforms
 2. Introduction:
Maleic acid is an organic compound that is a dicarboxylic acid, a molecule with two carboxyl groups. Its chemical formula is HO2CCHCHCO2H. Maleic acid is the cis-isomer of butenedioic acid, whereas fumaric acid is the trans-isomer. It is mainly used as a precursor to fumaric acid, and relative to its parent maleic anhydride, maleic acid has few applications.
3. Application:
Used in medicine, health products, food, beverage, cosmetics, biological and chemical reagents and other industries.
4. Health Benefits /Uses:
Maleic Acid is used in the manufacture of phthalic-type alkyd and polyester resins, surface coatings, copolymers, plasticizers, lubricant additives and agricultural chemicals; in adhesives and sealants; as a preservative for oils and fats; organic synthesis; dyeing and finishing wool, cotton and silk; and preparing the maleate salts of antihistamines and similar compounds.
5. Package & Storage:
1).5Kgs/Drum, 10Kgs/Drum, 20Kgs/Drum and 25Kgs/Drum.
2).In a cool, dry and ventilated place seal storage.
6. Our workshop:

7. Related certificate: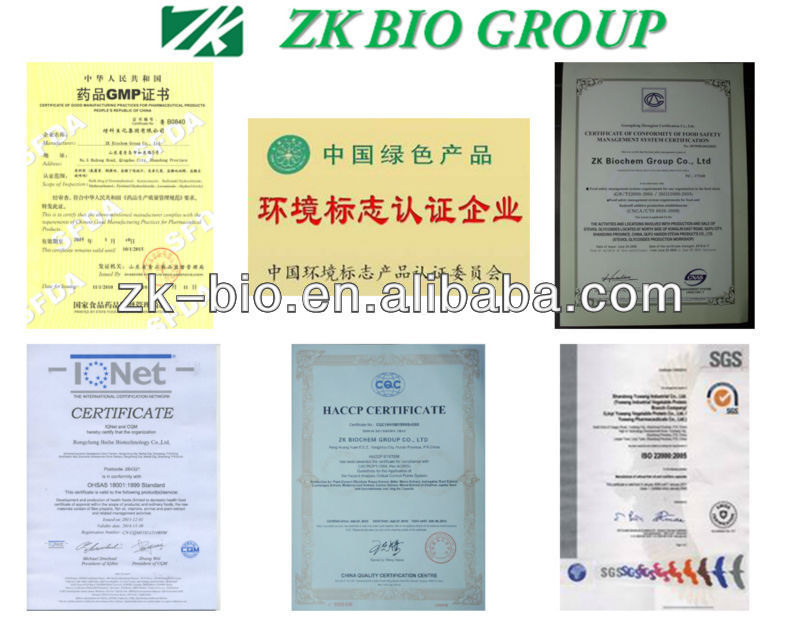 We can provide OEM service and private brand production.
If you have any further requirements please contact us freely.
Our advantages:
1. Our factory have passed the ISO9001, ISO14001, Kosher, HACCP and Chinese Health Food GMP
2. We inspect the manufacturing process strictly and the quality can be controlled
3. We supply high quality products, reasonable price, prompt delivery
4. Our best quality products from first-class raw materials
Product Categories : Dietary Supplement