Hot Sale Creatine Monohydrate Powder / 6020-87-7
Basic Info
Model No.: Creatine Monohydrate
Product Description
We supply Creatine series as follow:
1. Creatine Anhydrous
2. Creatine Monohydrate
3. Creatine Ethyl Ester HCL
4. Creatine Ethyl Ester Malate
5. Creatine Ethyl Ester Carbonate
6. Creatine Ester Sodium Phosphate
7. Creatine Malate
8. Dicreatine Malate
9. Taurine Ethyl Ester HCL
10. Tricreatine Malate
11. Creatine Citrate
12. Glycocyamine
13. Dicreatine Citrate
14. Tricreatine Citrate
15. Sodium Sarcosinate
16. Sarcosine
17. Creatine Alpha Ketoglutarate (1:1/2:1)
18. Buffer Creatine
19. Creatine Orotate
20. Creatine HCL
21. Creatine Gluconate
22. Creatine Methyl Ester
23. Creatine Decanoate
24. Creatine Methyl Ester HCL
25. Creatine Phosphate
26. Creatine Ethyl Ester 
27. Creatinine
CAS NO.: 6020-87-7
MF: C4H9N3O2.H2O
MW: 149.15
Structural formula: 

Mesh: 80-200mesh
Property: white crystal or powder, slightly soluble in water, insoluble in ethanol, ethyl ether.
Uses: pharmaceutical ingredients, health product additives.
Specification:
| | |
| --- | --- |
| Appearance | White crystal or crystalline powder |
| Assay | ≥99.9% |
| Loss on Drying | ≤12.0% |
| Heavy Metal(as Pb) | ≤10ppm |
| As | ≤1ppm |
| Residue on Ignition | ≤0.1% |
| Total Plate Count | ≤1000/g |
| Coli Bacillus | Negative |
We have enough stock for your demand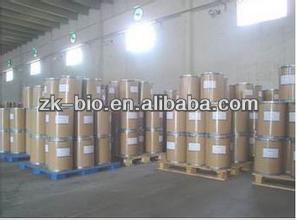 Introduction:

Creatine and creatinine are metabolized in the kidneys, muscle, liver and pancreas. Structurally, creatine is a methylguanidinoacetic acid which makes up to 98% of total muscle mass and plays a crucial role in muscle contraction. Creatine is excreted in the form of anhydride, i.e. creatinine. Serum creatine concentration is increased in muscular atrophy and muscular dystrophy, and following extremity amputation. Excessive proteinuria results from impaired tubular creatine reabsorption. Determination of creatinuria has a diagnostic value only in case of atrophy and in muscle regeneration in myopathies.
Creatine phosphate undergoes spontaneous breakdown in muscle cells to form creatinine. The loss of water molecule from creatine results in the formation of creatinine. Creatinine is transferred to the kidneys by blood plasma, wherefrom it is eliminated from the body by glomerular filtration and partial tubular excretion. Serum concentration of creatinine primarily depends on glomerular filtration. 
Plasma and urine creatinine level is a fairly constant value which is related to total muscle mass. As creatinine is endogenously formed and is not reabsorbed in the tubules, serum creatinine is a reliable indicator of glomerular function.
The benefits of taking Creatine:
Creatine is not only used by athletes to improve their overall performance, it may also help treat a range of neuromuscular and neurodegenerative disorders, such as arthritis, Parkinson's disease, congestive heart failure, and depression, in addition to improving cognitive ability.

1. Improving athletic performance
Creatine supplements are commonly used by athletes because of its effectiveness in high-intensity training.
People take creatine because it allows the body to produce more energy, and with more energy " you can lift one or two more reps or 5 more pounds" and "your muscles will get bigger and stronger," said Chad Kerksick, Ph.D., assistant professor of exercise physiology at the University of Oklahoma.
Researchers published findings in the Journal of Sports Science and Medicine1 suggesting that creatine use can increase maximum power and performance in high-intensity anaerobic repetitive work by up to 15 percent.
2. Increased muscle creatine content is associated with greater body mass and total body water volume.

A study published in the Journal of Athletic Training2 reported that creatine supplementation does result in water retention but fluid distribution does not change.
Creatine could help slow the progression of Parkinson's disease. In mice models of Parkinson's disease, creatine was able to prevent the loss of the cells that are typically affected by the condition.
Research, published in the Journal of Neurochemistry3, concluded that "combination therapy using Coenzyme Q(10) and creatine may be useful in the treatment of neurodegenerative diseases such as Parkinson's disease and HD."
 
3. Creatine may help people with muscular dystrophy

Creatine could also help improve the strength of people suffering from muscular dystrophy.
One German study found that patients who took creatine experienced an increase in muscle strength of 8.5 percent compared to those who did not take the supplement.
Dr. Rudolf Kley, of Ruhr University Bochum , Germany, lead reviewer of the study, said that the finding "shows that short- and medium-term creatine treatment improves muscle strength in people with muscular dystrophies and is well-tolerated."
4. Creatine for treating depression
It may come as a surprise that this popular supplement for athletes has properties that can help alleviate the symptoms of depression, but evidence shows that it really can.
Researchers at three different South Korean universities found that women with depression who augmented their daily antidepressant with 5 grams of creatine responded twice as fast and experienced remission of the illness at twice the rate, compared to women who took the antidepressant alone.

5. Creatine boosts brain power
Researchers from the University of Sydney and Macquarie University, both in Australia, found evidence that creatine can boost memory and intelligence.
Dr Caroline Rae, who led the study said that "the results were clear with both our experimental groups and in both test scenarios. Creatine supplementation gave a significant measurable boost to brain power."
Package:
25Kg/Paper Carton/Fiber drum/polybag lined with 2 layers PE bags.

Storage:
Stored in cool,dry,and ventilated storage,free from heat or sunlight and free from toxic and harmful foods.Be protected with pall on delivery,keep free from rain moisture,toxic,and harmful goods.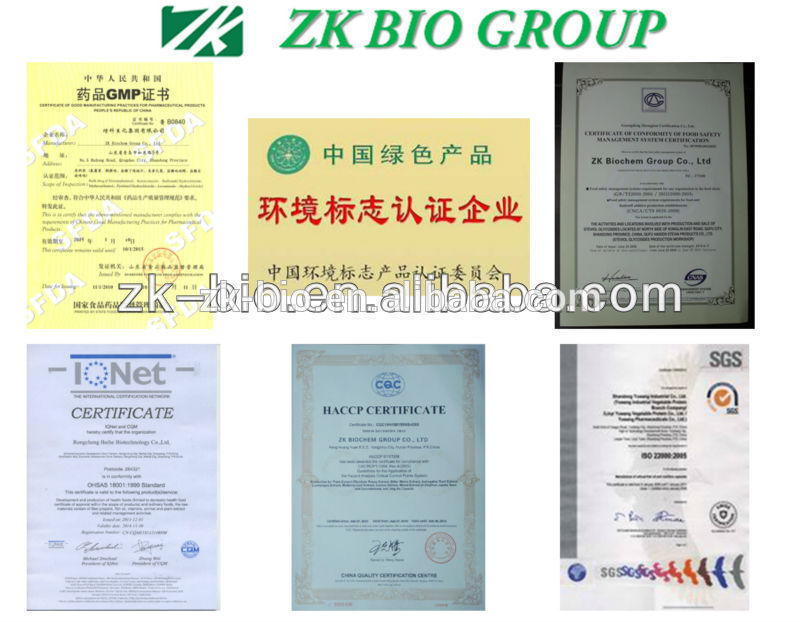 Our advantages:
1. Our factory have passed the ISO9001, ISO14001, Kosher, HACCP and Chinese Health Food GMP
2. We inspect the manufacturing process strictly and the quality can be controlled
3. We supply high quality products, reasonable price, prompt delivery
4. 15 years' experiences 
Product Categories : Dietary Supplement